Digital marketing is taking shape in Africa. Compared to most other regions around the world, the story is slightly different. And rightfully so, the future of digital marketing in Africa is very unique.
For this reason a lot of businesses and business owners are recently asking questions about possible digital marketing trends in Africa and how they can key into these trends, to build their businesses.
In the following paragraphs, you're about to read some of the most important marketing trends that have indeed shaped successful businesses and brands in Africa, based on statistics.
You're also going to learn about how to key into these trends, to create viable results for your business…
The Rise and Rise of Social Media
Since the beginning of social media in early 2000s, the social media has consistently penetrated Africa, with a large number of African millennials being at the center of the social media revolution.
Although compared to other region, the sheer number of Africans using the social media may not seem outrageous, but when you consider that the vast majority of African social media users are not just young they are also educated, sophisticated and exposed, you get to realize that the population is highly targeted and somewhat of best of the best.
In fact, according to a recent study, in 2020, three African countries, Nigeria, Kenya and South Africa made up top five countries spending the most time on the social media, spending at least of 3hours 30 minutes on social media daily, compared to a global average of 2 hours.
While northern and southern Africa holds the majority of social media users in Africa, social media is indeed a big thing in the whole of Africa. 
Take for instance, between 2020 and 2021, data reportal confirms that six million Nigerians joined social media for the first time. This was one of the highest around the world.
And it doesn't just stop there. With recent trends in the unprecedented use of social media to spark social changes within certain regions in Africa like the Arab spring protests, EndSARS among others, it's clearly visible that social media is indeed the future of digital marketing in Africa, especially for brands wishing to gain widespread visibility among African Millennials.
So as, a brand trying to penetrate the African market, you want to get your footing right on the social media and get your marketing strategy right, regardless of what you do on other platforms.
Say hello to Short Video Content
In one of its 2019 published post, Techpoint says, online video content is not king in Nigeria, yet.
Taking a cursory look at the data shared in the post, I was taken aback And if you read that post, you'll have no choice than to agree with the writer.
But coming back to the blog, post Covid-19 disruption, you get to realize that not only is that opinion unreliable in 2022, the indices have changed.
With the compulsory Covid-19 induced sit at home in 2020, just like it happened in most parts of the world, in Africa, short video content became a rescue from boredom, for most African millennials.
No this is not me manufacturing data. The rise in penetration and subscription for video streaming platforms like Netflix, Amazon Prime Videos, Showmax etc within this period is a case in study.
Take for example, Netflix after starting out with barely 300,000 subscribers in Africa in 2016, grew to over 2 million subscribers in 2021 and is still expected to more than double its subscriber base to 5.84 million in 2026.
Similar growth patterns is also projected for most other subscription based video streaming platforms operating in the continent, like Showmax, Amazon Prime etc.
Again, the rise and rise of comedy kits makers and short video creatives across the continent on platforms like Tiktok, Instagram, Youtube etc. are all patterns that shows the continuous penetration of short video content in Africa.
Of course, one of the factors responsible for this development is the increasing affordability of smartphones and a more competitive data rates.
So, while the high cost of mobile internet data was a major concern for video concerns in times past, today, the slight reduction in cost of mobile data has made video content part of the future of digital marketing in Africa. Especially when it comes to telling deeper and more relatable stories.
And as a brand, you have to put this in your content strategy toolkit.
The Influence of Comedy Skits Cannot be Ignored
Take it or take it, when it comes to digital marketing in Africa, the impact of comedy skits cannot be ignored.
A recent poll by an Abuja based think tank shows that 67 percent of Nigerians say they watch comedy skits, with Facebook being the largest platforms where these skits are watched.
While you may argue the widespread identity of Nigerians polled the number of mainstream actors and brands that have partnered with these skit makers in creating content is a clear indication of where the industry is leading.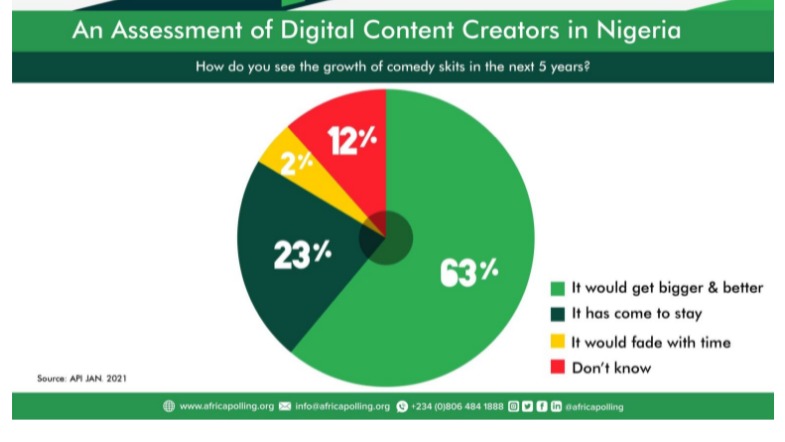 Unlike in times past, today the comedy skits industry has produced content creators who have gone from producing social media content in partnership with big media, to creating widespread influence beyond the social media.
Talk about the Debo Adebayo, aka Mr. Macroni, John Perry, aka Broda Shaggy, Emmanuela of Mark Angel Comedy and co. From social media kits, these guys have moved onto create a widespread impact and influence both locally and internationally.
The growth pattern of these skit makers goes on to demonstrate the place of comedy skits as a highly valuable content for African audience audience.
And that being the case, this kind of content is not just at the center of digital marketing in Africa, its influence cannot be ignored both in terms of paid partnership, marketing and self-created content.
Influencers are a Big Thing
While the role of influencers in brand marketing cannot truly be measured in most cases, surprisingly, influencers are still a big thing when it comes to marketing in Africa.
And frankly, unlike what we had back then when brands were mostly focusing on musicians, Nollywood actors and other big names in traditional media, today the focus has extended to social media influencers including micro influencers with smaller but highly engaged followers.
What this changing trends indicates is that while you realistically may not be able to measure the effect of an influencer on your brand in terms of customer acquisition, influencer marketing is still at the center stage of digital marketing in Africa.
So, instead of counting on influencer marketing to bring in hundreds of thousands of new customers, you can join the bandwagon, just for the effect of being on what's trendy at the moment or perhaps, getting a new reach or just chilling with the big boys.
Live Videos Can Create Live Impacts
You can say the Covid-19 pandemic was a major setback for businesses around the world, but we can also agree that for some brands in Africa, the Covid-19 pushback was a huge win for their expansionist moves and all round growth.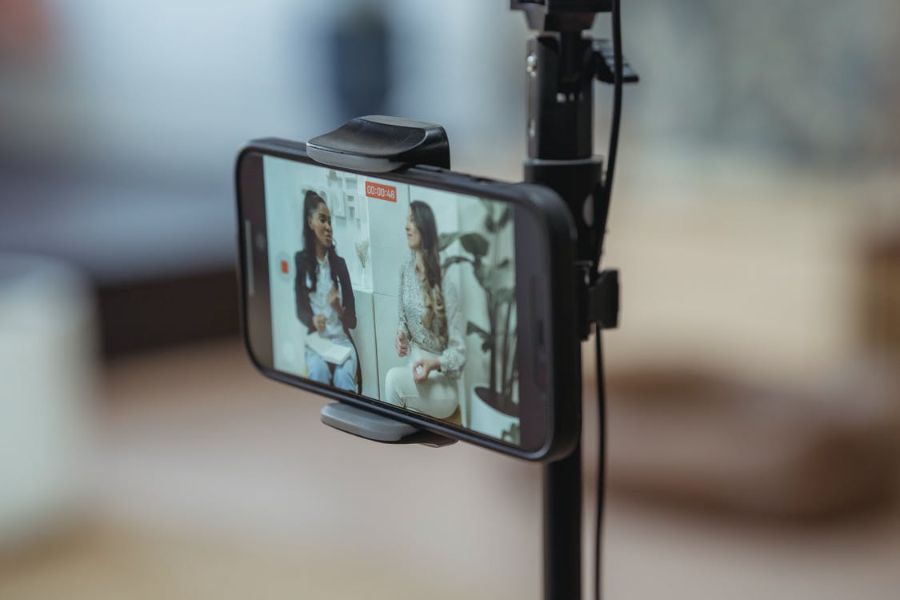 A leading case in study here are three 21st century Pentecostal churches in Africa.
I know. Like many other digital marketing experts, I have previously projected the possible role of social media in driving expansion for some churches, no one expected it'd come too suddenly or in such widespread moves.
But, no thanks to Covid-19 a lot has changed. And very rapidly too.
Personally, I have watched 2 Nigerian churches 100x their impact and reach out to many other regions outside Africa by using the social media to hold online morning devotions and other services.
One of these two churches for instance launched more than 5 branches with thousands of believers in leading cities around the world.
The other recorded a daily viewership of more than 100,000 combined online viewers in one of its 3 day major programs in 2022, on all its platforms. This is a church with a walk-in audience that's less than 25,000 members.
As a brand in Africa, as far as digital marketing is concerned, you need to know that social media live content is also the future of marketing in Africa.
And you can key into live videos to promote your behind the scenes, one on one interactions with your audience, paid partnerships on influencer platforms, among other ways.
Social PR is a big thing
If not for anything, using the social media for PR is also at the center of digital marketing in Africa. You'll easily see this on leading social media platforms like Twitter, Facebook, Instagram.
Yes, you can think the cancel culture is just a thing in Europe and America, in Africa, it is also gaining grounds. And very fast too.
Popularly known as dragging, the cancel culture in Africa sees clients using the social media platforms to call out, exert pressure on or even bully brands.
This new development has brought some damage to certain brands, thus preempting brands to utilize the social media not just as an image laundering platform but also asserting itself and solving potential customer related issues even before it happens.
Situations like this have pushed forward the social media as a strong PR tool, thus putting it in the frontline as an integral part of the future of digital marketing in Africa.
Conclusion
Whether you agree with this or not, the data says it all; In a shocking reveal as way back as 2015, Sahara Reporter's Nnenna Nwakanma quipped, "Whatever trends on Twitter trends on traditional media. And whatever trends on traditional media trends in the policy space. So we are looking at a shift in paradigm, in which social media becomes a definer of social discourse."
As much as you may choose to argue or doubt this new reality, data says it all; digital marketing in Africa has come to stay and by no means can it be ignored if you really want to make a real push into major African markets.
At this point, I am hoping that after reading through this and getting to understand the digital marketing trends in Africa, you're already coming up with ideas to push forward a realistic digital marketing strategy that will deliver results for your business.
At victorwinners.com, we're committed about using trends, analytics and big data to help businesses navigate their brands in Africa. And you can get a free quote when you click here.
So, it's over to you now! What's your biggest challenge when it comes to digital marketing as an African brand?
Let's continue the conversation in the comments sections.